TRAVolution – Train and Travel may 2019 in Israel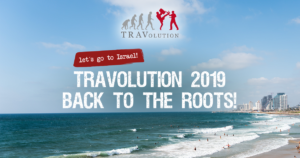 Save your Tickets now! 1st – 5th of May we will travel again to the country of Krav Maga and to the KRAVolution Headquarter 
This year we will stay again at the 4* Hotel "Island Suites" Netanya. The 4 * hotel has it's own training hall, where we can do training with you. The hotel is located directly on the beach, which makes a beach training possible and as last time we will train as much as we can, outside to enjoy the israeli sun and the nice beach view!
Our Travel Schedule:
up to 4 hours Krav Maga training a day with international KRAVolution

Instructors like Megan Berkman, Jean Paul Jauffret, Carsten Draheim, Pierre Marques, Tom Olliati and much more!

We train with you according to the new KRAVolution Curriculum

Special Krav Maga workshops and a varied training on the stand or in the city

Trip to the Dead Sea

Excursion to the historic city of Jerusalem

Excursion to a museum
The trip includes the stay from the 1st – 5th of May at the Hotel Netanya Suites. On the 1st of May is arrival day. Of course it's possible to extend your stay or arrive earlier – ask us!
For a small insight into the TRAVolution 2018 please click here.
So what are you waiting for? Buy your Ticket!

Questions? Let us know!
office@kravolution.com