TRAVolution 2018 – Train & Travel 10th-14th of May
Deutsch unten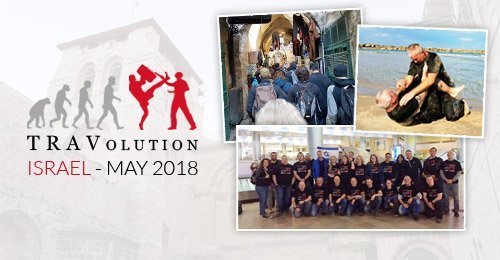 949,- € p.P.
Save your Tickets now! In May 2018 we will travel again to the country of Krav Maga.
This year we will stay at the 4* Hotel "Island Suites" Netanya. The 4 * hotel has it's own training hall, where we can do training with you. The hotel is located directly on the beach, which makes a beach training possible.
Our Travel Schedule:
up to 6 hours Krav Maga training a day with international KRAVolution

Instructors like Megan, Jean Paul, Carsten etc.

We train with you according to the new KRAVolution Curriculum

Special Krav Maga workshops and a varied training on the stand or in the city

FREE level testing during the trip for those who want to

Trip to the Dead Sea

Excursion to the historic city of Jerusalem


Excursion to the secret underground munitions factory
The trip includes the stay from the 10th – 14th of May at the Hotel Netanya Suites. On the 10th of May is arrival day. Of course it's possible to extend your stay or arrive earlier – ask us!
So what are you waiting for?
Questions? Let us know!
info@kravolution.com
---

You can make your own daily schedule of course. It's up to you if you would like to join all trainings and excursions we will provide. Our schedule looks like this:
1 hour of pre-breakfast training with Megan, Jean-Paul, Carsten or one of the other international KRAVolution Instructors – of which many will certainly arrive.
3 hours of training around noon, either in the training hall or in changing locations, e.g. on the beach, in Jerusalem, etc ..
It is also planned to complete 1-2 hours of pre-dinner training.
A level test is also possible for each of you.
Furthermore, the program includes various excursions to the Dead Sea, Jerusalem and a special museum.
TRAVolution 2018, 10th – 14th of May

4 nights at Hotel Island Suites Netanya in double room (singleroom extra charge 299€)
Half board with breakfast and dinner
Up to 6 hours of training with international KRAVolution Instructors
Use of the training hall and "Special Locations", for example on the beach or in the city
Excursion to the Dead Sea and Jerusalem
Museum visit
Expected air temperature: ca. 25 ° C
own arrival (without flights)

949,- € p.P.
Be part of this unique KRAVolution Jouney! ⇥ BOOK NOW ⇤
Questions?
info@kravolution.com
*incl. 0% VAT.

---
Sichere Dir dein Ticket jetzt! Im Mai 2018 werden wir wieder in das Land des Krav Maga reisen.
Dieses Jahr werden wir im Hotel "Island Suites" Netanya untergebracht sein. Das 4* Hotel verfügt über eine eigene coole Trainingshalle, in der wir mit euch trainieren können. Das Hotel ist direkt am Strand, sodass wir auch dort Krav Maga trainieren können.
Unser Reiseplan:
bis zu 6 Stunden Krav Maga Training am Tag mit internationalen KRAVolution
Instructoren wie Megan, Jean Paul, Carsten etc.
Wir trainieren mit dir nach dem neuen KRAVolution Curriculum
Special Krav Maga Workshops und ein abwechslungsreiches Training am Stand oder der Stadt
KOSTENLOSES Level-Testing während der Reise für alle, die möchten
Ausflug zum Toten Meer
Ausflug in die historische Stadt Jerusalem
Ausflug in die geheime unterirdische Munitionsfabrik
Die Reise beinhaltet den Aufenthalt vom 10.-14. Mai im Hotel Netanya Suites. Am 10. Mai ist Anreisetag. Du kannst natürlich gerne selbst noch Nächte verlängern oder auch  vorher anreisen – Frag uns!
Also worauf wartest Du noch?
Hast du Fragen? Gerne sind wir für dich da.
info@kravolution.com
---

Der Tagesplan ist wie immer für Euch frei zu gestalten, alles kann, nichts muss! 😉
Die Planung sieht bisher vor:
1 Stunde Training vor dem Frühstück mit Megan, Jean-Paul, Carsten oder einem der anderen internationalen KRAVolution Instructoren – welche sicherlich zahlreich anreisen werden.
Gegen Mittag 3 Stunden Training, entweder in der Trainingshalle aber auch gerne in wechselnden Locations, z.B. am Strand, in Jerusalem, etc.
Ebenfalls ist geplant 1-2 Stunden Training vor dem Abendessen.
Ein Leveltesting ist ebenfalls gerne für jeden von Euch möglich.
Weiterhin stehen auf dem Programm verschiedene Ausflüge zum Toten Meer, nach Jerusalem und in ein Museum.
TRAVolution 10.-14. Mai 2018

4 Nächte im Hotel Island Suites Netanya im Doppelzimmer (Aufschlag Einzelzimmer 299 €)
Halbpension mit Frühstück und Abendessen
bis zu 6 Stunden Training mit internationalen KRAVolution Instructoren
Nutzung der Trainingshalle und "Special Locations", z.B. am Strand oder in der Stadt
Ausflug zum Toten Meer
Ausflug nach Jerusalem
Museumsausflug
Voraussichtliche Lufttemperatur: 25°C
Eigene Anreise (ohne Flüge)

949,- € p.P.
Sei Teil dieser einzigartigen KRAVolution Reise! ⇥ BOOK NOW ⇤
Fragen?
info@kravolution.com
*Preis ohne MwSt.