2nd KRAVolution Kids Instructor Course 09.08.-13.08.2021 – with KIDS Camp!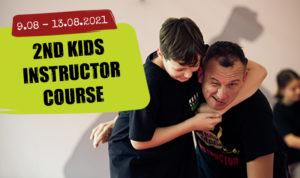 Due to popular demand, the KRAVolution Krav Maga Kids Instructor Course goes into the 2nd round. From 09-13.08.2021 in Germany.
More information about this course in which until yesterday over 80 children and ten prospective instructors from different countries participated, you will find here soon.
This course is not only for active instructors, but also for every man and woman who enjoys introducing children to effective self-defense in a playful way.
Price: 700 EUR
Member: 599 EUR
Location: Siegburger Str. 235w, 50679 Köln Deutz
Tickets can be found here:
https://www.kravolution.de/kids-instructor