Back
Megan Cohen Berkman

Head Instructor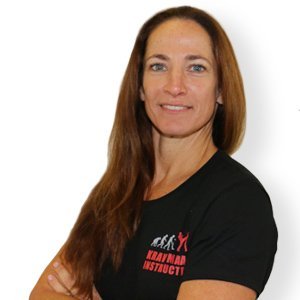 Qualifications:Civilian Krav Maga Instructor
Women's Self-Defense Instructor
Kids Krav Maga Instructor
Military Instructor
Fighting- & Selfdefense Skills:Judo
Krav Maga since 1988
About:
Megan was introduced to KravMaga during her military service in the IDF where she started off as a Boot Camp sergeant and then became a Military KravMaga instructor. During her two years of service, she taught hundreds of soldiers and was fortunate enough to have had the opportunity of meeting Imi himself . In this period, she trained with the highest levels of KM instructors. All of this from the age of 18. Today, Megan is one of the highest ranked women in the KravMaga world. She was the first and only woman in the IKMF's Global Instructor Team. However, Megan's involvement in sport and teaching skills started many years before this. Her teaching skills started at the age of 14, where she trained children's handball teams. She was a member of the Israeli National Handball team during high school. She also qualified as an instructor in gymnastics, as a fitness instructor and personal trainer at the Wingate Institute in Israel.
In 1995, Megan was one of the people who took KM to France and its neighboring countries, returning to Israel in 2009. She has been involved in KM for almost 30 years now, travelling throughout the world to run seminars and courses and spread and share her knowledge and experience (USA, Canada, Australia, Great Britain, France, Italy, Greece, Germany, Hungary, Bosnia, the Netherlands, Cyprus, Switzerland, Spain and more).
Today, Megan is the head instructor for Kravolution, whose ideology is based on sincerity, honesty, friendship, experience and, last but not least, professionalism.
Pictures
Videos