Women Only Seminar – Rome, Italy
– english below –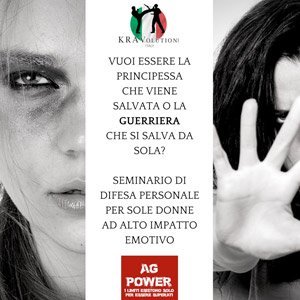 In occasione della #GiornataInternazionalecontrolaViolenzasulleDonne abbiamo deciso di tenere un seminario di difesa personale. In Italia quasi sette milioni di donne hanno subito abusi nel corso della loro vita.
Per questo motivo motivo AG Power ha organizzato uno stage riservato esclusivamente alle donne che sarà tenuto da Diego Mengarelli, istruttore civile e militare di Krav Maga con specializzazione nel corso Donne e Bambini della federazione internazionale KRAVolution.
Gli argomenti affrontati saranno:
• Statistiche legate alla violenza
• Come capire i segnali di allarme
• Differenze di linguaggio tra uomo e donna
• Esempi di aggressioni, come evitarle e come reagire
?Il seminario si terrà il 25 novembre 2017 in Via della Casetta Mattei 393 (Roma), presso la nostra struttura.
Si consiglia un abbigliamento comodo (tuta) e delle scarpe da ginnastica pulite.
Di seguito il programma:
• REGISTRAZIONE ORE 14:45
• INIZIO SEMINARIO ORE 15:00
• TERMINE SEMINARIO ORE 18:00
Il seminario è gratuito per tutte coloro che effettueranno la registrazione online ? QUI
Il costo, senza previa registrazione, è di 10€ (tranne per le abbonate AG Power).
? Per maggiori informazioni, scrivici in pagina o invia una mail a info@agpower.it
---
On the occasion of the Industrial International Contest for the volleyball team, we decided to organize a woman self-defense seminar.
In Italy, nearly seven million women have been abused in their previous lives. For this reason AG Power organizes a seminar exclusively for women only, which is held by Diego Mengarelli, civil and military Krav Maga Instructor specializing in training with women and children within the International Federation KRAVolution.
The topics will be:
• Statistics related to violence
• How to correctly interpret and understand the alarm signals
• Language differences between men and women
• Examples of aggression, how to avoid it and how to react
?The seminar will take place on November 25, 2017 in Via della Casetta Mattei 393 (Rome) in our facility.
We recommend a comfortable dress and clean shoes.
The program:
• REGISTRATION at 14:45
• START SEMINAR at 15.00
• SEMINAR ENDE at 18:00
The seminar is free for anyone who registers online.
? HERE
The costs without prior registration are 10 € (except AG Power subscribers!).
? For more information send an e-mail to info@agpower.it