Crisis Preventive Day 15.09.2018 – GET READY!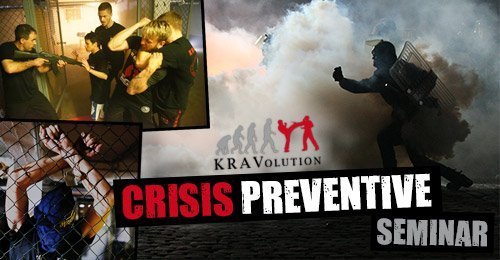 Terror, aktive shooter, kidnapping – these are all terms we see almost daily from the media. Mostly there are others who are affected, but what would you do if it suddenly hits you … and your family? Suddenly YOU are in the middle of it and now each of your actions is crucial- you can book the modules individually or the whole day!
MODULE 1 – 15.09. – 10:00 – 12:30
Run, Hide, Fight – Self-Defense in Nightlife – Self-Defense Against Attacks in a Disco / Nightclub
Location: CBE – Club Bahnhof Ehrenfeld
The last seminar took place last year and it was MEGA, you can watch it
HERE
Special Guest: Vincent Fericelli KRAVolution France
Terror in 2018 (Run, Hide, Fight)
Location: Club Bahnhof Ehrenfeld
* Teaching Terror in 2018 (Run, Hide, Fight)
* Attacks and attacks by aggressive persons – knife attacks
* Escape and Evasion classes in a discotheque at Club "Bahnhof Ehrenfeld". Self-defense in a crowd and in a club at a party against contact and knife attacks!
Voluntary: 13: 00-14: 00 – Urban Survival Orientation March 1,2 km from Club Bahnhof Ehrenfeld to Krav Maga Institute Location in Ehrenfeld with aerial view map.
or own approach to the next location
+ + + +
MODULE 2 – 15.09. – 14:30 – 17:00 clock
IFAK Drills (Individual First Aid Kit) in combination with multiple Krav Maga Lessons – you do not have to be a doctor to save lives!
Location: Krav Maga Institute Cologne City
Location: KRAV MAGA Institute Cologne Ehrenfeld – Attention the parking spaces in the underground garage are closed to this event.
Special Guest: AIM everything is possible – Airsoft Team Bonn
In first aid courses you learn how to help people with everyday injuries or traffic accidents, until the rescue chain intervenes and / or the ambulance takes over … our courses follow a different approach
Basics:
Blow and stabbing injuries
Examination Scheme CABCD "bloodsweap", application of tourniquet, wounded transport, combined with Krav Maga Lessons: how to fight your way out!
+ + + +
MODULE 3 – 15.09. – 17:30 – 20:00
Amok situations with krav maga self-defense against firearm threats and behavior in hostage situations.
Multiple Krav Maga Units – Gun & Rifle Defense
How I can survive in an amok situation
Teaching Expertise
Gun training, safe handling in case of sudden possession or handling in self-defense
Special Guest: AIM everything is feasible – Airsoft Team Bonn