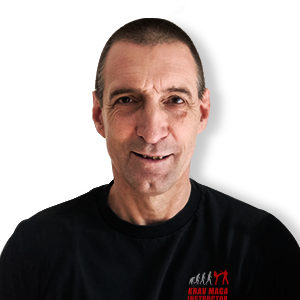 Qualifications:Civil Krav Maga Instructor
Law Enforcement Instructor
S.W.A.T Instructor
Military Instructor
Fighting- & Selfdefense Skills:Krav Maga since 2006
6. DAN Shotokan Karate
further qualifications in Hapkido, Arnis, Jiu Jitsu, Kendo
School:Gym:
Altendorfer Str. 256
46282 Dorsten, Altendorf-Ulfkotte
About:
I have been training martial arts since 1972. I started with judo, but then changed to karate the following year. Hapkido, Arnis and Kendo were added at the end of the 70s. Since 2005 I run Krav Maga. In the same year I opened the first Krav Maga Gym in Berlin, which I handed over to my student Marcel Jardinier in 2007. From 1999 to 2007 I worked in Berlin as a bodyguard and later as a bodyguard instructor at the BKA. During this time I regularly taught and trained police officers at home and abroad.
At the moment I teach Krav Maga in our gym in Altendorf-Ulfkotte (Dorsten). As a Krav Maga trainer and instructor, I have received a lot of positive feedback on the Krav Maga system developed by Imi Lichtenfeld. Krav Maga is the best self-defense for me as a police officer. That's why I want to constantly expand my acquired knowledge and pass it on to interested people.