Back
Carsten Rückels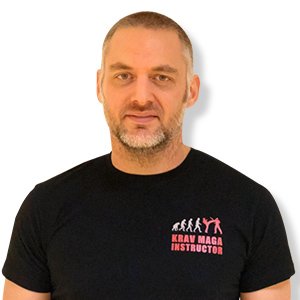 Qualifications:
Krav Maga

Civil  Instructor
Krav Maga Law Enforcement Instructor
Clinical Social Worker

De-escalation trainer in social and health care
Fighting- & Selfdefense Skills:Krav Maga
About:
After having trained various martial arts, such as Karate, Jiu-Jitsu, Jeet Kune Do, Wing Tsun and Kali since my childhood, I first came into contact with Krav Maga in 2010 and have been convinced of it ever since. What convinces me about Krav Maga is that it is based on natural body reactions, is based on techniques and tactics, works under stress, is great for fitness and is fun.
In my work I train social and health care professionals in de-escalation strategies and self-protection techniques, develop protection concepts and work with perpetrators and victims of violence. Again, Krav Maga is a suitable and helpful supplement for me. Especially since different forms of psychological and physical violence are becoming more and more a topic in these fields of work and influence everyday life. Krav Maga offers solutions that are based on natural stress reactions, which are systematically practiced under stress and thus increase one's own stress tolerance and maintain the ability to act in violent situations. In addition, unfavourable positions, the environment, the dynamics of attacks and proportionality are taken into account. This makes it adaptable to different professional areas and ideal for practical use. With its history and the many professional practitioners, it is a system from and for practice.