Anti-Home Invasion & Anti-Car-Jacking Instructor Course – South Africa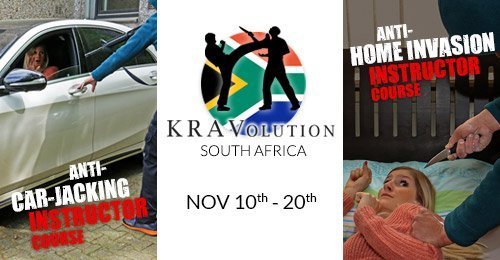 Have you already been training Krav Maga for a while or do you have many years of Martial Arts experience, and now you are ready to undertake the responsibility of sharing your knowledge with others? Then we want YOU as an instructor!
If you want to become a Krav Maga Instructor, sign up now and improve yourself with this outstanding Krav Maga Anti-Car Jacking and Home Invasion Instructor Course!

⇥ WHERE
KRAVolution Krav Maga South Africa, Johannesburg

⇥ WHEN
November 10-20, 2018

⇥ CONTENT
• Condensed course with well-planned training duration
• Principle-based lessons, not only techniques
• Reality-based scenario training to push you to the limit
• Supervised by International Highest-Level-Krav Maga Instructor – Jean-Paul Jauffret

⇥ AFTER PASSING
You receive a KRAVolution certificate for the successfully passed full-time course as a Krav Maga Instructor and the respective patch.
…the home invasion part:
Preventive tactics inside the home – movement with/to family members
with an intruder inside, hiding places, safe areas inside your house and a master plan for evacuation.
Self Defense in a restrictive environment (hallways, in bed)
Use of improvised weapons in the home
Physical security for the house (locks, lighting, shrubbery, etc)
The seminar will cover:
• Basic Combatives standing and on the ground
• Finding and using foreign objects as weapons.
• Hand Gun Defenses
• Fighting while Zip Tied
• Knowing when to attack and when to comply
• Lecture on Home Invasion Prevention
No one likes to think about their home being invaded. No one thinks it will happen to them. The unfortunate truth is that it happens to many people, and having martial arts skills or self defense training and emergency planning and practice greatly increases a family's chance of survival.
The disturbing reality is that there are people among us who derive perverse satisfaction from physically hurting others and who prey on the weak and the vulnerable. Home invaders are particularly dangerous because in many cases there is no time pressure on the criminal. There's little likelihood of being interrupted. Theft may be a motivation but violence is often a motivator as well, since a simple burglary when no one is home is less risky. Many of us are vulnerable in our homes because we let down our defenses, believing a locked door will stop a criminal intent on doing harm when in fact most home invasions happen despite locked doors.This course is for Instructors, how to teach people to protect themselves and their families from a home invasion or only for normal civilians who want to join this outstanding Krav Maga Program:
Do you have escape plans and evacuation routes, and equally important, have you practiced them with all members of your family? Have you discussed and planned for specific situations or scenarios with everyone in the household? Do you own a gun (handgun, shotgun, or other firearm), and if so, do you know how to use it with regards to your emergency plans? Have you practiced getting to your weapon tactical and under different conditions?
…the car jacking part:
anti-carjacking and road rage
Learn how to teach Krav Maga techniques and tactics in and around vehicle and dangerous vehicle situations.
• Situational Awareness Tactics
• Evasion techniques inside and outside the vehicle
• How to mentally and physically deal with a life threatening situation in an around your vehicle!
• Krav Maga Technics and Tactics inside and outside the vehicle

⇥ REQUIREMENTS
You can participate, when you are a martial arts trainer with more than 2 years of teaching experience or if you have practiced Krav Maga for more than 2 years.

This unique Krav Maga Instructor Course is specially developed for South Africa and for people that teach different kinds of self defense, or are already martial arts trainers.
• Open to the public!
• No Krav Maga experience necessary if you are a martial arts teacher

⇥ COSTS
14.500 ZAR  /  999 EUR


⇥ QUESTIONS & BOOKING
education@kravolution.com