Back
Fabrizio Carro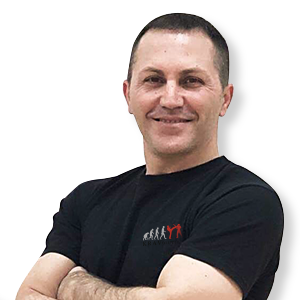 Qualifications:Civilian Krav Maga Instructor
Security Krav Maga Instructor
Female Self Defence Instructor
Fighting- & Selfdefense Skills:Krav Maga Instructor since 2001
CrossFit L1 Trainer
Functional Training Instructor
Full Contact Kick Boxing Instructor
Shotokan Karate 1st Dan black belt
Budo Tai Jutsu 2nd Dan black belt
Jeet Kune Do
Kali
Kalah
Viet Vo Dao
Kick Boxing
School:Elite Krav Maga Milano
Via Carroccio 13, 20123 Milano
www.elitekravmaga.it
https://facebook.com/EliteKravMagait/
https://instagram.com/EliteKravMagait/
About:
I began practicing martial arts in 1988 with Shotokan Karate, achieving 1st Dan black belt. Since 1992 I started studying Budo Tai Jutsu in the Bujinkan program up to 2nd Dan black belt. In 1998 I began practising Jeet Kune Do and Kali at Paul Vunak's Progressive Fighting System.
In 1998 I also began my experience with Krav Maga, finally becoming Instructor in 2001 training from Philippe Kaddouch, whom at the time was the European Director of IKMF. In the same period I also attended a course at the International Bodyguard Association which led me to offer security services, carrying out VIP Protection and venue security. This, in turn, increased my experience in the field.
In 2005 I studied Kalah with its founder, Idan Abolnik. In 2009 I also took part in the first Italian Crossfit Trainer program, achieving the Level 1 certification. I am a full time, Expert level, professional instructor, with an on going personal training comprising specific courses held by some of the world's most renowned instructors, including Eyal Yanilov, Avi Moyal, Tamir Gilad, Israel Tamir, Israel Cohen, Stephane Chatton and Jean Paul Jauffret. I teach groups and individuals at my school in Milan.