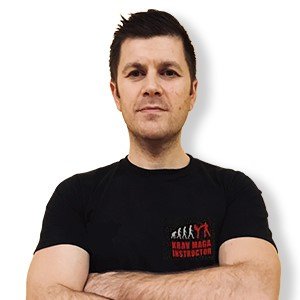 Qualifications:Civilian Krav Maga Instructor
Security Krav Maga Instructor
Fighting- & Selfdefense Skills:Krav Maga Expert Level
Vip Protection – Level Bronze
Karate
Kick Boxing (Full Contact)
School:Professional Self Defense Academy
Firenze
www.Professional-KravMaga.it
https://www.facebook.com/ProfessionalKravMaga/ https://www.instagram.com/professional_kravmaga/
About:
Since I was 12 years old I have always practiced combat sports like Karate and Kick Boxing, taking part in various national and international competitions, often qualifying for the final. In 2002 I met Krav Maga through the first Federations in Italy. At that time I took part in an internship with Philippe Kaddouch and from that moment I decided to become an instructor.
I trained and worked with various international instructors such as Amnon Darsa, Eyal Yanilov, Avi Moyal, etc.
Many years have passed until the Expert level 1 is reached in 2016 in Israel.
I transmitted my knowledge to my students for 16 years, making them grow and I through them.
All this towards a goal to respect the desire of Imi Lichtenfeld (Creator of Krav Maga) "So you can walk in peace".
Currently I teach in Florence and in Prato and I do various courses.